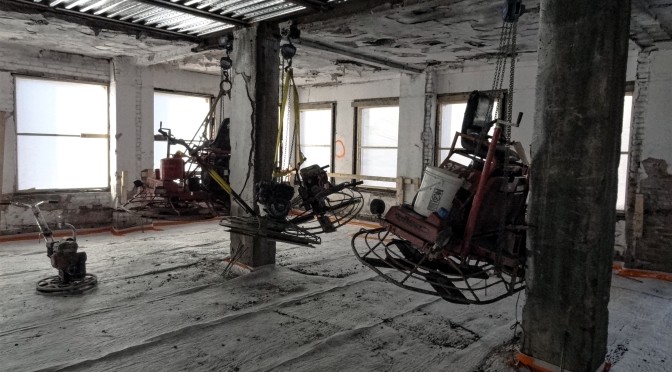 PROJECT: Arcade Building – St. Louis
Dominium Development of Minneapolis is the developer for the $118 Million combined Webster University, Residential and Commercial project in the 800 block of St. Louis. Paric Corporation began construction for this 500,000 sq ft building in August of 2014.
The Arcade building was listed on the National Register of Historic places in 2003 and purchased by Dominium in 2013 for $9 million from the City of St. Louis' Land Clearance for Redevelopment Authority.
Originally the Wright building -built in 1906 – the Arcade is an additional component built in 1919 attaching to and surrounding the Wright structure, and for some time in U.S. History was the tallest reinforced concrete structure.
The Arcade building required several specialized concrete mixtures placed by Vee Jay Cement. We utilized Light Weight for the bulk of our placements for the combined 18 and 16-floor buildings. The Light Weight was placed over an acoustic mat for improving sound transmission in the residential areas. XYPEX was added to a small placement for an elevated deck for waterproofing and finally MCI2005NS was incorporated for the Corrosion Inhibitor in the reinforced lower levels.
Dominium plans to restore the old moldings, keep the old signs and finish the project by 2016. The rehab of these combined buildings will add more than 13k sq ft of artist studio space and a 19th-floor terrace. Webster University plans to build an art gallery and auditorium on the first floor, two upper floors of classroom space and room to house a thousand students.
---