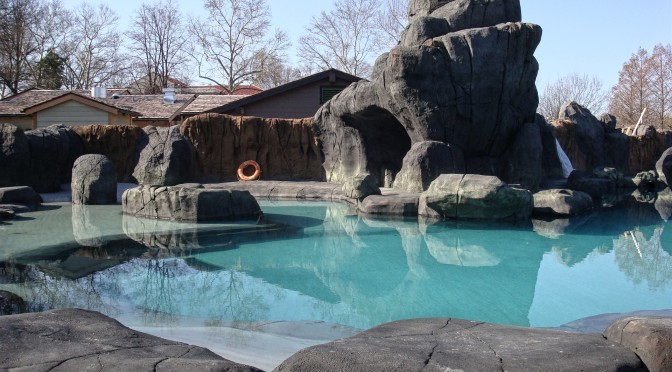 PROJECT: Sea Lion Sound – St. Louis Zoo
The Sea Lion Sound is the first exhibit in North America that allows visitors to observe the amazing abilities and intelligence of these graceful creatures from an underwater tunnel. After opening in June of 2012, the Sea Lion Sound has already been the recipient of several awards, not the least of which is the top zoo association award for "Exhibit Design" in 2013.
At an estimated cost of $18 to $19 million, the exhibit features hardscapes designed to mimic the Sea Lion's native Pacific Northwest, sculpted from several types of shotcrete mixtures and utilizing many admixtures and special design properties including Xypex, Hydration Stabilizers, Integral Color and Fly Ash.
There are several viewing areas including a breathtaking 35ft long underwater walk-through tunnel, a sunbathing beach, a deepwater pool and an amphitheater for sea lion shows. Cemrock artists showcase their concrete skill in all of the rock formations and saltwater pools which were sculpted and in most cases painted to provide a true-to-life environment for both the animals and viewers. Many of the concrete elements that are unseen, house the mechanical side maintaining the saltwater system, a new care center as well as extensive footings, foundations and seating for the arena.
General Contractor: Rhodey Construction Company/Castle Joint Venture (Alberici – Construction Manager).
Sub-Contractor: Hawkins Construction, Castle Contracting, and Cemrock.
The old exhibit separated visitors from the sea lions, but now the sea lions can interact with visitors of all ages. This is truly a masterful project.
---